Immerse yourself in a mesmerizing musical voyage as Music Director Alastair Willis opens the 91st Season which leads with Jack M. Champaigne Masterworks Series, Silk Road and Strauss, featuring acclaimed percussionist Joseph Gramley! Become astounded by the U.S. premier of Malek Jandali's Symphony No. 6, The Desert Rose as the Symphony performs excerpts from this enchanting piece. Experience the captivating Chen Yi Percussion Concerto, followed by the exquisite Rosenkavalier Suite by Richard Strauss, for a night of unparalleled musical artistry that will leave you in awe. Don't miss this extraordinary concert – save your seats now for an unforgettable experience! 
Aha! With Alastair – Silk Road + Strauss
September 20, 2023
Program
Malek Jandali
Excerpts from Symphony No. 6, "The Desert Rose" U.S. Premiere  
I. Epigraph Grandioso
II. Praise: con moto 
III. The Sea: Allegretto
V. Ardah: Moderato
VII. Fete: Vivace 
Chen Yi
Percussion Concerto   
 – Intermission  –
R.  Strauss  
Suite from Der Rosenkavalier, Op. 59
Program Notes
Symphony No. 6, 'The Desert Rose'
United States Premiere
Malek Jandali
Born: December 25, 1972, Waldbröl,
West Germany
Composed: 2022
Premiered: Qatar Philharmonic Orchestra
Duration: 18 minutes
The desert rose, with its intricate crystalline petal clusters, forms over millennia through the interaction of minerals, sand, and water in regions such as Qatar—a land of desert and sea. This "architectural" wonder of nature inspired the design of Jean Nouvel's masterpiece, the National Museum of Qatar, a stunning structure of interlocking discs that tells the story of Qatar.
---
Percussion Concerto 
Chen Yi
Born: April 4, 1953, Guangzhou, China
Composed: 1998
Premiered: Singapore Symphony Orchestra, Singapore
Duration: 22 minutes
Born in 1953 in Guangzhou, China, composer Chen Yi's musical journey commenced amidst the Cultural Revolution, leading her to the Beijing Central Conservatory. Her studies later carried her to Columbia University in the United States deepening her appreciation of Western classical music while also maintaining a profound connection with Chinese traditional music.
Premiered in 1998, her Percussion Concerto exemplifies this cross-cultural style, merging the nuances of Eastern and musical traditions. The work uses a broad range of instruments, delivering a thrilling blend of rhythmic complexity and melodic innovation.
The first movement, 'The Night Deepens' showcases the soloist's technical mastery, bursting with energy and rhythm inspired by traditional Chinese percussion music and Western orchestral percussion. The contrasting 'Prelude to Water' offers a tranquil soundscape, where the listener can appreciate the sensitivity and expressive capacity of the percussion instruments. The third and final movement, 'Speedy Wind', features virtuosic displays, intricate counterpoint, and driving energy.
Throughout the concerto, listen for Chen Yi's sophisticated blend of Eastern and Western musical traditions. 
---
Suite from Der Rosenkavalier, Op. 59
Richard Georg Strauss
Born: June 11, 1864, Munich, Bavaria, Kingdom of Bavaria
Died: September 8, 1949, Garmisch,
West Germany
Composed: The opera was begun in 1909 and completed on September 26, 1910
Premiered: January 26, 1911, Dresden Court Opera 
Duration: 24 minutes
Born in Munich in 1864, Richard Strauss stands among the titans of late Romantic and early twentieth-century music. A conductor and composer of extraordinary virtuosity and talent, Strauss's musical education began under the tutelage of his father, Franz Strauss, a professional horn player, before he went on to study at the Ludwig Maximilian University of Munich.
The Suite from Der Rosenkavalier, derived from Strauss's comedic opera Der Rosenkavalier (The Knight of the Rose), encapsulates his flair for lavish orchestration and his ability to evoke deep emotions. The opera premiered in 1911, amidst a world on the brink of drastic change. As such, the Suite, arranged after Strauss's death, is a nostalgic trip back to an idyllic, albeit imagined, eighteenth-century Vienna.
As the Suite begins, the listener is greeted by the soaring theme of the Overture, which introduces the themes of youthful love and desire. The stirring horns and full orchestral textures give a sense of opulence and grandeur.
This leads into a series of waltzes. Here, Strauss's orchestration shines, with each instrument contributing to an evolving, captivating soundscape. The syncopated rhythms and lively melodies evoke the feeling of a grand ballroom, transporting listeners back in time.
The middle section of the suite is more introspective, characterized by tender passages and featuring some of Strauss's most lyrical writing. Here, the theme of mature, enduring love is embodied through lush strings and gentle woodwind melodies.
As the suite draws to a close, the tempo quickens, reintroducing the boisterous waltz theme from earlier. Yet, the nostalgia remains palpable, with a sense of time slipping away. The suite ends with a grand, emotional climax, leaving the audience lingering in Strauss's vividly painted past.
In the Suite from Der Rosenkavalier, listen for Strauss' exceptional use of leitmotifs. These are musical motifs or phrases which represent specific characters, feelings, or ideas. Also, pay attention to the lush orchestration and sweeping melodic lines that transport the listener through a gamut of emotions.
Joseph Gramley, percussion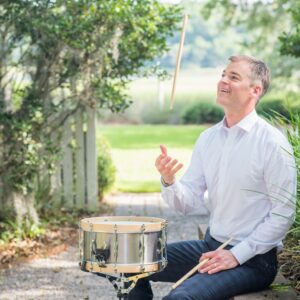 Joseph Gramley's dynamic and exciting performances as a soloist have garnered critical acclaim and enthusiasm from emerging composers, percussion aficionados and first-time concert-goers alike. He is committed to bringing fresh and inventive compositions to a broad public, and each year he commissions and premieres a number of new works. His first solo recording, American Deconstruction,is an expert rendition of five milestone works in multi-percussion's huge new modern repertoire. His second solo recording, Global Percussion, continues his exploration of important works for the idiom and includes two new commissions and the first release of Philip Glass' 1 + 1. An invitation from Yo-Yo Ma in 2000 led Gramley to join Mr. Ma's Silkroad Ensemble. In addition to participating in the group's extended residencies in cities and at universities around the globe, Gramley has toured with Mr. Ma and the Ensemble throughout North America, Europe, Central Asia, Australia, the Middle-East and Asia, performing in the world's finest concert halls. Along the way, Gramley has studied percussion styles and instruments from around the globe, collaborating with internationally-renowned musicians from India, Iran, China, Japan, Korea, Spain and Central Asia. He has also appeared on eight top-selling albums with Yo-Yo Ma on multiple labels. Gramley served as Associate Artistic Director of the Silkroad Ensemble from 2014-2017. During Gramley's tenure, the Ensemble won the 2017 GRAMMY award for 'best world music' album, was nominated for 'Best Music Film' and recorded the music for Ken Burns' documentary, 'Vietnam' for PBS.
In addition to his solo and Silkroad work, as well as his frequent appearances with chamber groups and orchestras, Gramley performs with the acclaimed British organist Clive Driskill-Smith in the duo Organized Rhythm. The pair's first recording, Beaming Music,was issued in 2007. They've steadily commissioned new works and released videos since that time. Gramley joined The Knights in 2009 and has recorded and performed with them throughout the U.S. and Europe. Joseph Gramley has performed with: the Metropolitan Opera (on stage with Placido Domingo), Pierre-Laurent Aimard (US tour), Orpheus Chamber Orchestra (US and international tours), Orchestra of St. Luke's, Chicago Symphony Orchestra (soloist), Seattle Symphony, Orchestre de Lyon, Dawn Upshaw (US and international tours), David Robertson (Carnegie Hall), Spoleto Festival (soloist), Martha Graham Dance Company, Merce Cunningham Dance Company, Mark Morris Dance Group (US and international tours), New York City Ballet, Glen Velez (US tour), Keiko Abe (PASIC), Aretha Franklin, Elton John and numerous others.
Malek Jandali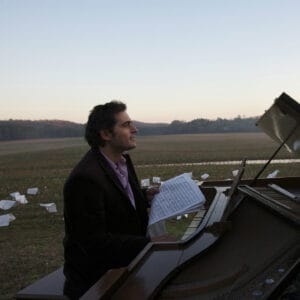 Described as "deeply enigmatic" (Gramophone) and rich with "heart-rending melodies, lush orchestration, clever transitions and creative textures" (American Record Guide), Malek Jandali's music is widely regarded as "a major new addition to the 21st century's symphonic literature" (Fanfare magazine). Recent commissions and premieres include a Viola Concerto for Roberto Diaz, a String Quartet for the Nashville Symphony Orchestra, and a world premiere by the Baltimore Symphony Orchestra under the baton of Marin Alsop, who described The Silent Ocean as "an evocative and emotional journey for musicians and audience members. In this piece Jandali captures the struggle, trauma and triumph of our displaced brothers and sisters, through the voice of a child. It is a beautiful and important message."
Jandali's compositions not only integrate Middle-Eastern modes into Western classical forms and harmony but also echo UNESCO's call to preserve and protect the rich cultural heritage of his homeland Syria at a time when it is being eradicated. His repertoire ranges from chamber music to large-scale orchestral works including four symphonies, five symphonic dances, and six concertos. Jandali's works have been performed by numerous orchestras such as the Royal Philharmonic Orchestra, Baltimore Symphony Orchestra, Zagreb Philharmonic Orchestra, Stockholm Solister, Norrlandsoperan Symphony Orchestra, Cairo Symphony Orchestra, and the Russian Philharmonic Orchestra.
Jandali has self-produced seven albums of lauded performances of forty of his compositions. His albums Syrian Symphony, SoHo, Hiraeth, and The Jasmine Tree were released at Carnegie Hall's Weill Recital Hall in 2015, 2016, 2017, and 2018 respectively. The Huffington Post described his work as "inspiring" and Bob Stevenson of NPR stated that his music is both "moving and thought provoking." His most recent album, scheduled for 2019/20 release, includes his Piano Concerto, recorded in Moscow with the Russian Philharmonic Orchestra led by Sergey Kondrashev, and his Elegy, recorded in London with the Royal Philharmonic Orchestra conducted by David Firman. Maestro Firman described Jandali's music as "gorgeous, haunting, yearning and full of hope, with a pain more personal than that of Tchaikovsky or Rachmaninoff."
Also an "acclaimed pianist" (BBC World News) noted for his passion, imagination, and authenticity, Mr. Jandali enjoys a remarkable career that has taken him around the globe—throughout the United States, Canada, the United Kingdom, Austria, Germany, Norway, Qatar, and Australia among other nations. He continues to captivate audiences in performances at such prestigious venues as the Kennedy Center, Wiener Konzerthaus, Madrid's National Auditorium with the Queen of Spain in attendance, Cadogon Hall, Stockholm Konserthuset, Cairo Opera House, Nidaros Cathedral, Sydney Opera House, United Nations Headquarters, and Carnegie Hall's Weill Recital Hall.
Dedicated not only to preserving Syria's cultural heritage but to humanitarian causes, Jandali has been regularly recognized by and invited to speak at key institutions such as Harvard University, the Skoll World Form at Oxford, Duke University, Aspen Ideas Festival, Fordham University, the United Nations headquarters in New York City, the Doha Debates at Georgetown University in Qatar, TEDx Talks at Georgia Tech, and Sydney Ideas at the University of Sydney. Mr. Jandali is the recipient of the 2014 Global Music Humanitarian Award and in 2015, the Carnegie Corporation of New York honored him as a Great Immigrant. He is a strong advocate for peace and was selected as a Visiting Scholar for the 2017/18 academic year in the Center for the Study of Genocide and Human Rights at Rutgers University.
Mr. Jandali is passionate about making the arts accessible to all and is the founder and CEO of Pianos for Peace, a non-profit organization dedicated to building peace through music and education. He embraces young talent from all over the world through the annual Malek Jandali International Youth Piano Competition. Mr. Jandali makes his home in both Manhattan and Atlanta. His music is published exclusively by Soul b Music, and his recordings are available from iTunes, Amazon, and Virgin Megastores worldwide.
Musicians
Meet the musicians here!
Series Sponsor
Thank you to our generous series sponsor; Jack M. Champaigne Masterworks Series.
Jordan Lexus of Mishawaka is a proud 2023-24 Season Artistic Sponsor.
Program subject to change.
Sponsors