Immerse yourself in a mesmerizing musical voyage as Music Director Alastair Willis opens the 91st Season which leads with Jack M. Champaigne Masterworks Series, Silk Road and Strauss, featuring acclaimed percussionist Joseph Gramley! Experience the captivating Chen Yi Percussion Concerto, followed by the exquisite Rosenkavalier Suite by Richard Strauss, for a night of unparalleled musical artistry that will leave you in awe. Don't miss this extraordinary concert – save your seats now for an unforgettable experience! 
Program
Coming soon.
Program Notes
Coming soon.
Joseph Gramley, percussion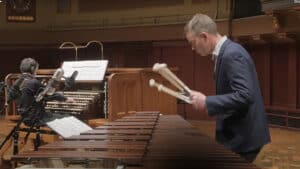 Joseph Gramley's dynamic and exciting performances as a soloist have garnered critical acclaim and enthusiasm from emerging composers, percussion aficionados and first-time concert-goers alike. He is committed to bringing fresh and inventive compositions to a broad public, and each year he commissions and premieres a number of new works. His first solo recording, American Deconstruction,is an expert rendition of five milestone works in multi-percussion's huge new modern repertoire. His second solo recording, Global Percussion, continues his exploration of important works for the idiom and includes two new commissions and the first release of Philip Glass' 1 + 1. An invitation from Yo-Yo Ma in 2000 led Gramley to join Mr. Ma's Silkroad Ensemble. In addition to participating in the group's extended residencies in cities and at universities around the globe, Gramley has toured with Mr. Ma and the Ensemble throughout North America, Europe, Central Asia, Australia, the Middle-East and Asia, performing in the world's finest concert halls. Along the way, Gramley has studied percussion styles and instruments from around the globe, collaborating with internationally-renowned musicians from India, Iran, China, Japan, Korea, Spain and Central Asia. He has also appeared on eight top-selling albums with Yo-Yo Ma on multiple labels. Gramley served as Associate Artistic Director of the Silkroad Ensemble from 2014-2017. During Gramley's tenure, the Ensemble won the 2017 GRAMMY award for 'best world music' album, was nominated for 'Best Music Film' and recorded the music for Ken Burns' documentary, 'Vietnam' for PBS.
In addition to his solo and Silkroad work, as well as his frequent appearances with chamber groups and orchestras, Gramley performs with the acclaimed British organist Clive Driskill-Smith in the duo Organized Rhythm. The pair's first recording, Beaming Music,was issued in 2007. They've steadily commissioned new works and released videos since that time. Gramley joined The Knights in 2009 and has recorded and performed with them throughout the U.S. and Europe. Joseph Gramley has performed with: the Metropolitan Opera (on stage with Placido Domingo), Pierre-Laurent Aimard (US tour), Orpheus Chamber Orchestra (US and international tours), Orchestra of St. Luke's, Chicago Symphony Orchestra (soloist), Seattle Symphony, Orchestre de Lyon, Dawn Upshaw (US and international tours), David Robertson (Carnegie Hall), Spoleto Festival (soloist), Martha Graham Dance Company, Merce Cunningham Dance Company, Mark Morris Dance Group (US and international tours), New York City Ballet, Glen Velez (US tour), Keiko Abe (PASIC), Aretha Franklin, Elton John and numerous others.
Musicians
Meet the musicians here!
Series Sponsor
Thank you to our generous series sponsor; Jack M. Champaigne Masterworks Series.
Program subject to change.
Calendar for Silk Road + Strauss
Getting to the Venue
Morris Performing Arts Center
211 N. Michigan Street
South Bend, IN 46601
211 North Michigan Street
211 North Michigan Street, South Bend, IN 46601, USA
Sponsors