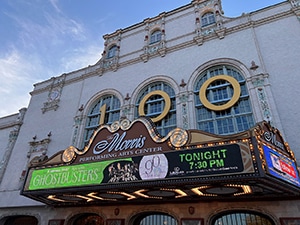 Morris Performing Arts Center
211 N. Michigan St.
South Bend, IN 46601
(574) 235-9190
www.morriscenter.org
Convenient parking can be found at the public garage on the corner of Main and Colfax, and at the DoubleTree by Hilton/1st Source Bank Complex. Parking is also available on the streets within walking distance of the Morris and at the Leighton Center on Washington Street between Main and Michigan.
Please note: The surface parking lots immediately to the north of the Morris Performing Arts Center are private lots. No public parking is permitted in the Hoffman or LaSalle Building lots. Vehicles risk being towed.
Google Maps Morris Parking Map

DeBartolo Performing Arts Center
100 Performing Arts Center
Notre Dame, IN 46556
(574) 631-2800
www.performingarts.nd.edu
During the academic year, the gated parking lot just north of the center adjacent to the Stayer Center for Executive Education at the Mendoza College of Business is free and open to the public on weekdays after 5 p.m. and all day Saturday and Sunday. Access to this lot may be restricted during Notre Dame athletics and other special events; parking attendants or police will direct you to the nearest available parking.
An accessible lot for vehicles displaying a Disabled Person (DP) Parking Placard or DP License Plate is on the east side of the center.
Parking is not permitted in the paved brick area or curbside except in the 10-minute parking zone. However, you are welcome to drop off passengers in this area before proceeding to a parking lot.
Skip the line in the parking garage when you pre-pay for the new valet parking service through SOPHI! For $25, pull your car up to the Morris Performing Arts Center and SOPHI will take care of the rest. More details are below.
• Valet will be available on the North Side of the Morris.
• Customers, pull in from MLK Blvd. onto Michigan St. where the SOPHI team will be set up to take in cars (signs will also be available for guidance).
• Once you are finished with the show, vehicle pick up will be on the north side of building.
• To which you will then exit your vehicle onto Main St.
Tap the link below to schedule your valet service for any of our future performances!
Welcome to the hall! The following policies will ensure the music continues as the South Bend Symphony Orchestra implements actionable steps to reduce the spread of COVID-19. We have created policies based on local, state, and industry safety guidelines, along with epidemiological data. The protocols and requirements established are vital to keeping all who attend, perform, and work during a concert healthy. We will keep patrons informed via email communications and on our website. Please be sure to read all the policies before arriving. We are grateful for your patience, understanding, and cooperation in keeping everyone safe and healthy.
ARRIVAL
Doors open 60 minutes before the concert start time.
Elevator occupancy is limited to one party at a time.
Pre-show security screening – The Morris Performing Arts Center will continue to screen guests using metal detectors and bag checks prior to entering theatre.
INSIDE THE HALL
Effective March 14, 2022, facial masks are optional for all audience members inside the Morris Performing Arts Center. This decision and all other safety protocols are based on the CDC's recommendations for each COVID-19 community level.
Practice good hand hygiene, frequently washing or sanitizing hands.
The venues are sanitized before each performance, in addition to the high-touch surfaces cleaned during the performance.
Sanitization stations with hand sanitizer and wipes will be available.
Stay in your ticketed seat. If you would like to be physically distanced at the performances, please contact the Symphony office before the event.
Restroom capacities will be closely monitored by venue staff.
HVAC air filters have been upgraded to maximum efficiency and the house dampers are opened to 10 percent to increase fresh airflow.
MONITOR YOUR HEALTH & OTHERS
PLEASE STAY HOME: If you or any member of your group feels unwell or
has any COVID-19 Symptoms*
tested positive with COVID-19 test in the past ten days, or
has had close contact with anyone confirmed or suspected of having COVID-19 – PLEASE STAY HOME.
Contact the Symphony Office at 574-232-6343 for help in exchanging tickets for any affected concert.
Risk: Attendees understand that there is an inherent risk of exposure to COVID-19 in any public place where people are present. Those purchasing or attending events voluntarily assume all risks related to exposure to COVID-19.
Accessibility for Patrons with Special Needs
Please inform the box office staff at either venue, Morris Performing Arts Center or the DeBartolo Performing Arts Center, of any special needs while ordering tickets to ensure suitable accommodations can be arranged.
Morris Performing Arts Center Box Office
574-235-9190
Box office is open Tuesday – Thursday, 10:00 a.m. to 2:00 p.m.
DeBartolo Performing Arts Center Ticket Office
574-631-2800
Box office is open Monday through Friday, Noon to 6 p.m. and one hour prior to performances.
Accessible Seating
Morris Performing Arts Center
If possible, please call the Morris Box Office 24 hours in advance of arrival.
Accessible restrooms on both levels
Elevators on both levels
Power door available by the Morris Box Office entrance
DeBartolo Performing Arts Center
Three wheelchair locations house left with appropriate companion seats adjacent.
Three wheelchair locations house right with appropriate companion seats adjacent.
Six wheelchair locations in the balcony with appropriate companion seats adjacent.
Accessible restrooms on both levels
Elevators on both levels
The main entrances of the center are equipped with power doors.
Assistance for the Sight Impaired
Morris Performing Arts Center
Staff members are able to assist patrons with sight impairments – please contact us before arrival.
Assisted Listening Devices
Morris Performing Arts Center
Assisted Listening Devices (Phonic Ear) available upon request at the Morris Box Office – no advanced notification needed.
DeBartolo Performing Arts Center
Assistive Listening devices are available upon request. Sennheiser infrared assistive listening system is a part of the building infrastructure.
To obtain the device and headset, please contact an usher prior to being seated at your performance. To acquire a device and headset, a driver's license or major credit card will be held as a security deposit, then exchanged for the equipment at its return at the conclusion of the performance.
Sign Language Interpretation
Morris Performing Arts Center
Hearing Interpreter – Please contact the Morris Box Office two weeks in advance of the performance.
DeBartolo Performing Arts Center
American Sign Language (ASL) interpretation is scheduled for select performances at the center throughout the year. For Visiting Artist Series theater performances, ASL interpretation is generally provided for the final performance if multiple shows are offered.
If you would like ASL assistance, please feel free to contact the Ticket Office at (574) 631-2800. A staff member can provide you with the best seating choices for viewing the ASL interpreter.
Students can enjoy a Jack M. Champaigne Masterworks Series or June H. Edward Mosaic Series concert for $12 per concert and fifty percent off a full-price ticket to an Indiana Trust Pops Series concert.
Student tickets are eligible for anyone under age 12 or with a valid student ID. The discount allows the purchase of one ticket at the offered rate and is not eligible to be transferred between patrons. 
A valid student ID is required when the ticket is scanned.
Single tickets purchased from venues are non-refundable and non-exchangeable.
Subscription tickets can be exchanged, before the day of the concert, for another concert within the same season. Subscription tickets are non-refundable.
Please note: Fees and additional charges may apply if the exchange value exceeds the purchased ticket price. Exchanges are not available for a future season. Hold on to your tickets; the box office requires the original tickets to issue the new tickets.