Program
Quinn Mason
Reflections on a Memorial
Wolfgang Amadeus Mozart  
Violin Concerto No.3 in G, K.216
1. Allegro
2. Adagio
3. Rondeau. Allegro 
Brendan Shea, violin
Ludwig van Beethoven
Symphony No. 8 in F major
1. Allegro vivace e con brio 
2. Allegretto scherzando 
3. Tempo di Menuetto 
4. Allegro vivace
Program Notes
QUINN MASON – Reflections on a Memorial
'Reflection on a Memorial' contemplates the passing of a person or a tragic event and meditates on this idea. In the composition, the listener experiences grief and mourning at first as we ponder and think deeply about events past, and at a brief moment in the climax – an enlightening moment – that can be seen as light through the darkness and a spark of hope.
The composition is scored for string orchestra and begins with a soli for the viola section. I chose the viola section to begin this piece because of the mournful and singing character of the instrument's sound. Also prominently featured throughout the composition are the voices of the solo violin and cello, which almost take on narrative roles; at the end, a solo cello reprises the viola line heard the beginning as a final mournful statement.
There are four distinct sections in the piece: a somber, melancholy beginning, then a faster, tragic outburst of grief, followed by a calmer reflective passage, which features hopeful yet intense chords that build up to a light-infused climax. This is all brought together with a coda that is a faint memory of an earlier section of the piece, which becomes distant and fades into the abyss.
Another one of my 'open interpretation' compositions, this piece can be used to commemorate any event or person, so that it may be performed in a variety of situations.
---
WOLFGANG AMADEUS MOZART – Violin Concerto No. 3 in G major, K. 216
Mozart's five violin concertos are believed to have been composed for the personal use of the composer himself. The first, composed in 1773 was followed by the last four, written in quick succession in 1775. While the fourth and fifth violin concertos are the most frequently performed, the third greets the listener with the same charm and sophistication associated with Mozart's beloved style. The concerto in G major displays adventurous musical features, while still adhering to the classical Rococo idioms of the early eighteenth century. Also known as style Galant, the musical Rococo prized clear form – usually signaled by decisive key changes, a departure from the complex counterpart of the Baroque, and an emphasis on simple melodic material.
---
LUDWIG VAN BEETHOVEN – Symphony No. 8 in F major, Op. 93
Although Beethoven's Eighth Symphony is not synonymous with the composer's reputation for ground-breaking symphonic grandeur, it is perhaps one of his most autobiographical of his works. At a dinner party in Vienna, sometime predating the composition of the Eighth Symphony in 1812, Beethoven marveled at the mechanical inventions of his friend, Johann Nepomuk Mälzel. Mälzel had recently perfected the mechanics of the metronome – one of his newest creations. The device delighted the dinner guests, Beethoven included. The party went on into the night, the activities highlighted by Beethoven's impromptu composition of a vocal canon accompanied humorously by the steady "tick-tock, tick-tock" sounds on the new musical time-keeping machine. "Ta, ta, ta [the metronome], my dear Mälzel, fare the well, very well…" remarked Beethoven. The camaraderie of the evening would carry itself all the way into the writing of the Eighth Symphony some months later.
Brendan Shea, Violin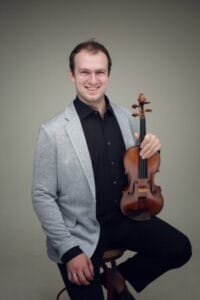 Brendan Shea is the Concertmaster and Elizabeth M. Cullity Chair for the South Bend Symphony Orchestra and a sought after soloist, chamber musician, and teacher. By the age of 11, he was performing with orchestras and had performed at Carnegie Hall. 
Brendan has performed across the world in collaboration with many world-class ensembles and as a soloist. He premiered Frederic Rzewski's Night, Death, and Devil with the Emmy Award-winning 8th Blackbird. As a founding member of the award-winning Wasmuth Quartet(now Verona), he performed across the United States, Germany, and Japan. His solo career has taken him across the globe as well, with performances in major venues in Europe and Asia, and across North America. He is also present at prestigious festivals and residencies across the globe, including the peerless Encore Chamber Music Festival.
In 2014 he partnered with his wife Yerin Kim to form the Shea-Kim Duo, which has competed internationally and performed recitals in Asia, Europe, and North America. Their performances have been broadcasted by Klara Continuo in Belgium, PBC in South Korea, and WUFT Classic in Florida. Their first CD was released by Ark Studio in Seoul, South Korea. Their first studio recording is due to be released in the summer of 2021. He also joined the South Bend Symphony Orchestra under Alastair Willis as Concertmaster in 2019.
In addition to his performance career, Brendan is also a sought-after violin teacher and chamber musician. He has taught at several prestigious summer festivals, including the Encore Chamber Music Festival and Credo Music Festival. He has been a guest faculty at Oberlin Conservatory, Visiting Professor of the Practice of Violin and Viola at the University of Notre Dame, and is currently on the faculty of Indiana University, South Bend.
Musicians
Music Director Alastair Willis
Ernestine M. Raclin Chair
Violin I
Brendan Shea, Concertmaster, Elizabeth M. Cullity Chair
Mark Portolese, Associate Concertmaster, Barbara K. Warner Chair
Azusa Tashiro, Assistant
Jessica Bennett
Candace Thomas
Louisa Blood
David Visser
Jae Sung Lee
Violin II
Nicolas Orbovic, Principal, Irene M. Siberell Chair
Rachel Brown, Associate Principal, Wells Fargo Bank Chair
Tamara Stojanovic
Clara Woolley
Chris Milliken
Barb Arnold
Deborah Barker
Viola
Gabriel Schlaffer, Principal, Anonymous Patron Chair
Maria Ritzenthaler, Associate Principal, Barnes and Thornburg, LLP Chair
Rachel Goff
Noel Navoa
Cello
Lara Turner, Principal, Dorothy and Herbert A. Schiller, M.D. Chair
Brook Bennett, Associate Principal, Peg and Robert O. Laven Chair
David Machavariani, South Bend Symphony Orchestra League Chair
Allison Chambers
Denise Kuehner
Bass
Edward Randles, Principal, Leo J. McKernan Chair
Victor Dome
Flute
Leslie Short, Principal, Christopher H. Wilson Chair
Eliza Bangert
Oboe
Jennet Ingle, Principal, Cushwa Family Chair
Lindsay Wiley
Clarinet
Trevor O'Riordan, Principal
Sergey Gutorov, Dr. and Mrs. James M. Wilson Chair
Bassoon
Jill Dispenza, Principal
Jason E. Kramer
Horn
Kurt Civilette, Principal
Jeremiah Frederick, Shirley and Joseph Hennessy Chair
Trumpet
Stephen Orejudos, Principal, Linda and Bruce Bancroft Chair
Timpani
Simon Gomez
Series Sponsors
Thank you to our generous series sponsors; Jack M. Champaigne Masterworks Series and  June H. Edwards Mosaic Series.
Virtual Stage
Click to access the Virtual Stage
Code required. Please check your email with your virtual ticket after your purchase. Subscribers receive complimentary access to this new feature. Instruction and code will be delivered by email before 6 p.m. on performance days.