Witness the distinct majesty of Beethoven's Fifth Symphony alongside a violin concerto by George Clinton featuring acclaimed violinist, Holly Mulcahy.
Holly Mulcahy  The Rose of Sonora. 
Ludwig van Beethoven  Symphony No. 5
George S. Clinton
The Rose of Sonora
1. The Escape
2. Love and Freedom
3. Ambush
4. Death and Healing
5. Vengeance
Holly Mulcahy, violin
---
Ludwig van Beethoven
Symphony No. 5 in C minor, Op.67
1. Allegro con brio
2. Andante con moto
3. Scherzo: Allegro – Trio
4. Allegro
Program Notes
George S. Clinton (1947-) The Rose of Sonora
"The Rose of Sonora is first and foremost a violin concerto. One of the most significant aspects of it to both Holly and me is that it be accessible to and engaging for today's audience.
It is composed in five scenes (movements) for solo violin, symphony orchestra, and male chorus, but in the style of an epic Western film score. One of the features of the solo violin part is the merging of traditional fiddle technique with classic violin technique, giving the main character, Rose, her voice.
As a film composer I am used to composing to a story. After researching the lives of outlaw women of the old west, I decided to create my own story and heroine, The Rose of Sonora.
Each of the five scenes tells part of her story.
I believe that for most of us, listening to music creates images in our minds. I decided to use that as a way of presenting the concerto. Rather than a passive listening experience, it will be an interactive one.
Prior to each scene being performed, a description of what is happening in that scene will be projected on a screen above the orchestra or read by a narrator. Inspired by the scene descriptions and the music they are hearing, by the end of the concerto, each member of the audience will have created his or her own 'mental movie' of The Rose Of Sonora."
~ George S. Clinton, composer
---
Ludwig van Beethoven (1770-1827) Symphony No. 5 in C minor, Op. 67
In an unheated Theater-an-der-Wien on December 22, 1808, Beethoven would produce one of the greatest concerts in history. Alongside the premiere of Symphony No. 6, the entire Choral Fantasy, movements from his Mass in C Major, and the Fourth Piano Concerto, the provocative Symphony No. 5 also made its debut. Sketches for the Fifth symphony are known to have existed from as early as 1804, but Beethoven would continue to shape the work over the next several years. Despondent and frightened by increasing deafness, personal struggles, and Napoleon's trampling of his homeland, Beethoven endured one of the most difficult years of his life.
The Fifth symphony marks a distinct shift in symphonic formula as it was then known. Mustering a new musical vocabulary, Beethoven harnessed the potential of the symphony to transcend mere entertainment.
The first movement begins with the thunderous and unmistakable four-note motif that forces its way through the orchestra. Beethoven's audience would have been astonished by such a brazen introduction. The movement's central drama emerges from Beethoven's masterful development of a nonsensical fragment. With a single gesture, he unleashes unparalleled motivic development, fueling the movement's relentless momentum. Secondary thematic material threatens the chief musical idea, but the obsessive theme returns again and again throughout the opening seven minutes.
The second movement, Andante con brio, juxtaposes the chaos of the opening movement with tender lyricism and a theme undoubtedly more familiar to the nineteenth-century ear. The movement's variations, spun from two central themes, are executed through breathtaking duets between the lower strings and woodwinds. The third movement Scherzodeparts from the traditional minuet and trio. An ominous murmur in the lower strings is quickly overpowered by the aggressive interruption of brass who carry the movement's opening theme. The strings reprise their opening cry only to be overwhelmed by the primary theme once again. A spritely fugue ensues, proclaiming the supremacy of the lower strings. The disjointed movement culminates with a familiar unsettling murmur before a crescendo leads into the work's euphoric finale.
Trombone enters for the first time in the symphonic literature during the Allegro, where the dark brassy timbre leads the movement's march-like theme. The finale is a sparkling display of orchestral color, from the glittering piccolo to the warm contrabassoon. New themes enter and develop on a grand and extended musical canvas. The key of C major (the parallel of the work's predominant key of C minor), associated with brightness and stability, reinforces the triumphant conclusion.
The legacy of Beethoven's Fifth symphony is profound. "The victory symphony was a new kind of symphony," writes the late music critic Michael Steinberg, "and Beethoven's intention here of a path from strife to triumph became a model for symphonic writing to the present day." Despite his own personal tumult, increasing deafness, and hopelessness over a collapsing political landscape, Beethoven remains the immortal exemplar of the redemptive power of music. From darkness to light, despair to redemption, and chaos to order, his revolutionary treatment of symphonic form and his quest to communicate the sublime through music shaped the classical tradition for generations to come.
Halle McGuire Hobbins
Holly Mulcahy, violin
After hearing Scheherazade at an early age, Holly Mulcahy fell in love with the violin and knew it would be her future. Since then, she has won multiple positions in symphonic orchestras from Richmond to Phoenix and is currently serving as concertmaster of the Wichita Symphony Orchestra and Chattanooga Symphony & Opera.
Holly began developing her leadership skills at the renowned Peabody Institute of the Johns Hopkins University with former Baltimore Symphony concertmaster Herbert Greenberg. In recent seasons she has enjoyed serving as traveling concertmaster for Emmy Award winner George Daugherty's Bugs Bunny at the Symphony, and as guest concertmaster for the Columbus Symphony (OH), Baltimore Chamber Orchestra, and a one-year appointment as interim concertmaster for Orchestra Iowa.
As an in-demand performer, Holly balances her orchestral duties with numerous concerto performances around the country. Passionate about performing living American composers' works, Holly has been featured as soloist for concertos by Jennifer Higdon, Jim Stephenson, Philip Glass, and now a concerto being written for her by Hollywood film composer, George S. Clinton. This new concerto, The Rose of Sonora: a violin concerto in five scenes, is inspired by true stories about the lives of legendary women in the Old West and will take the listener on an epic western adventure of love and revenge. The world premiere performance will be in April 2019.
Believing in music as a healing and coping source, Holly founded Arts Capacity, a charitable 501(c)3 which focuses on bringing live chamber music, art, artists, and composers to prisons. Arts Capacity addresses many emotional and character-building issues people face as they prepare for release into society.
In addition to an active performing career, Holly is the author of Neo Classical, a monthly column on the future of classical music. On days off, Holly maintains a reputation for planning and hosting exquisite gourmet parties in her Chicago home.
Holly performs on a 1917 Giovanni Cavani violin, previously owned by the late renowned soloist Eugene Fodor, and a bespoke bow made by award winning master bow maker, Douglas Raguse.
Visit HollyMulcahy.com for more information.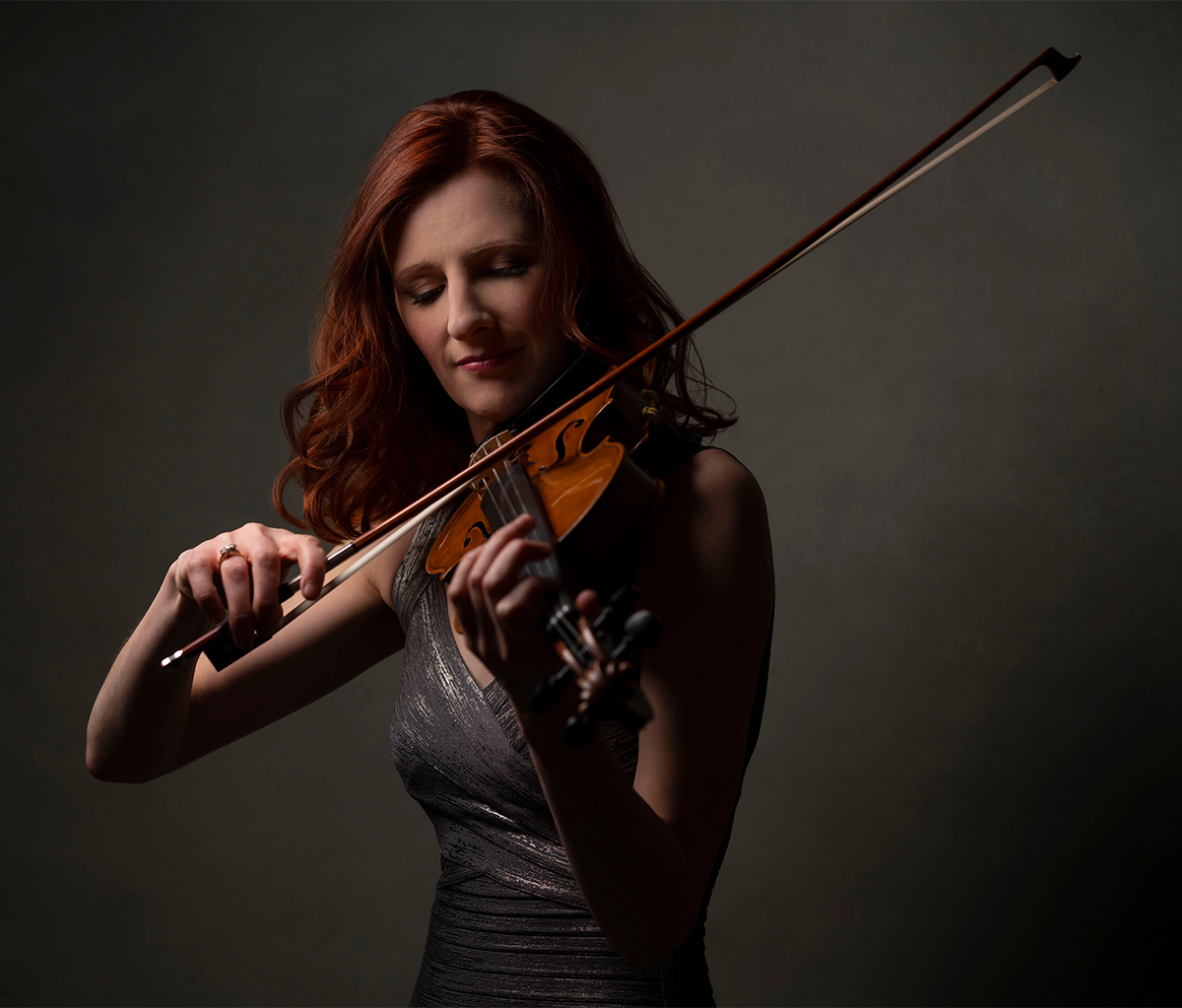 Musicians
Violin I
Mark Portolese
Acting Concertmaster
Elizabeth M. Cullity Chair
Azusa Tashiro
Acting Associate Concertmaster
Barbara K. Warner Chair
Anna Carlson
Acting Assistant
Jessica Bennett
Candace Thomas
David Visser
Jacob Murphy
Violin II
Nicolas Orbovich
Principal
Irene M. Siberell Chair
Rachel Brown
Acting
Associate Principal
Wells Fargo Bank Chair
Tamara Stojanovic
Clara Woolley
Chris Milliken
Barb Arnold
Viola
Gabriel Schlaffer
Principal
Anonymous
Patron Chair
Rachel Goff
Associate Principal
Barnes and Thornburg, LLP Chair
Jonathan Moore Matthew Barwegen
Rose Wollman
Cello
Lara Turner
Principal
Dorothy and Herbert A. Schiller, M.D. Chair
Brook Bennett
Associate Principal
Peg and Robert O. Laven Chair
David Machavariani
South Bend Symphony Orchestra League Chair
Allison Chambers
Bass
Edward Randles
Principal
Leo J. McKernan Chair
Victor Dome
Flute
Leslie Short
Principal
Christopher H.
Wilson Chair
Eliza Bangert
Jane and E. Blair Warner Chair
Evan Fojtik
Oboe
Jennet Ingle
Principal
Cushwa Family Chair
Lindsay Wiley
Clarinet
Trevor O'Riordan
Principal
William Olsen
Dr. and Mrs. James M. Wilson Chair
Bassoon
Alex McCroy
Acting Principal
Jason E. Kramer
Steven Ingle
Horn
Kurt Civilette
Principal
Brian Goodwin
Shirley and Joseph Hennessy Chair
Betsy Judge
Katie Loesch
Trumpet
Stephen Orejudos
Principal
Linda and Bruce
Bancroft Chair
Ben Veerapun
Rich Neckerman
Trombone 
David Roode
Principal
Masterworks – Mossberg and Company, Inc. Chair
Bill Clark
Helene Dauerty
Tuba
Yukitada Onitsuka
Principal
The Thompson Family Fund Chair
Timpani
Simon Gomez Gallego
Percussion
Kent Barnhart
Principal
Peg and Ray Larson Chair
Lana Wordel
Andrew Cierny
Harp
Renee Wilson
Principal
Barbara J. Shields Byrum Chair
Series Sponsor
Thank you to our generous series sponsor Jack M. Champaigne Masterworks Series.
Virtual Stage
Click to access the Virtual Stage
Code required. Please check your email with your virtual ticket after your purchase. Subscribers receive complimentary access to this new feature. Instruction and code will be delivered by email before 6 p.m. on performance days.
Aha! With Alastair
Beethoven's Fifth and Rose of Sonora