Program
Quinn Mason 
A Joyous Trilogy 
I. Running
II. Reflection
III. Renewal
Florence Price
Piano Concerto in One Movement
Michelle Cann, piano
William Dawson 
Negro Folk Symphony
I. The Bond of Africa
II. Hope in the Night
III. O Le' Me Shine, Shine Like a Morning Star!
Program Notes
Quinn Mason, A Joyous Trilogy
For A Joyous Trilogy, the composer writes that he "wanted to create a composition that was the very embodiment of happiness and cheerfulness, an accessible work that would put any listener in a good mood. The first movement, 'Running' is so called because of its always-moving and seemingly never-waning energy that keeps going and going. The second, 'Reflection,' is a gentle and introspective meditation featuring a solo trombone. The third, 'Renewal,' picks the energy back up, but a little more spirited and zestful this time, and keeps it going to the very end, complete with dynamic and vibrant interplay between all the orchestral sections.
Quinn Mason has dedicated this work to "Will White, a friend and mentor for many years now, and one of the most joyous people I know!"
– www.masonianmusic.com
---
Florence Price, Concerto in One Movement
Florence Price was born Florence Smith in 1887 in Little Rock, Arkansas, to a dentist father and piano teacher mother. With their encouragement, she studied piano and at age 14, graduated from high school as the valedictorian of her class. At age 14, Florence graduated from high school as class valedictorian and was admitted to the New England Conservatory of Music, one of the few music schools to accept black students at the time earning two diplomas in piano and organ in 1906. She studied music composition with the conservatory director, George Chadwick.
She taught at Shorter College in Little Rock and By the time she was 23 in 1910, she was head of the music department at Clark University in Atlanta, Georgia. In 1912, she married Thomas J Price and they moved back to Little Rock, but racial tensions were on the rise and, after a public lynching in 1927, the family moved to Chicago. At the same time, she started entering composing competitions, winning several prizes. Her big break came in 1932 when her First Symphony won the orchestral category in the Wanamaker Music Composition Contest. Musicologist and Price biographer Rae Linda Brown noted from her examination of Price's manuscript that:
Originally subtitled the "Negro Symphony," this work assimilates characteristic Afro-American folk idioms into classical structures. But unlike William Grant Still and William Dawson, Price abandoned a title that would have suggested a programmatic work and, perhaps, would have limited the perception of the symphony's scope. Since the subtitle was almost obliterated from the score I examined, it can be concluded that Price changed her mind prior to the work's first performance; none of the reviews refer to its programmatic name.
Catching the attention of conductor Frederick Stock, conductor of The Chicago Symphony Orchestra. Stock premiered the work, Symphony in E minor, with the Chicago Symphony Orchestra during the Century of Progress Exposition at the Chicago World Fair on June 15, 1933, making her the first African American woman to have a work performed by a major symphony orchestra in the United States. 
Success was short-lived because of her sex and race. She often struggled to get her music played in a more sexist and segregated era. Michaela Baranello in her New York Times article of February 9, 2018, titled Welcoming a Black Female Composer Into the Canon…Finally quotes the 1943 letter Price wrote to Serge Koussevitzky, music director of the Boston Symphony Orchestra, asking him to consider her music for performances, "Unfortunately the work of a woman composer is preconceived by many to be light, froth, lacking in depth, logic, and virility. Add to that the incident of race–I have Colored blood in my veins–and you will understand some of the difficulties that confront one in such a position."
She continued to write, and her music was performed in concert halls in Detroit, Michigan, and Brooklyn, New York. Marian Anderson sang her arrangement of My Soul's Been Anchored in De Lord as the closing song of her historic concert at the Lincoln Memorial in Washington DC in 1939. One of her most famous students was pianist and composer Margaret Bonds.
The seven-minute Concerto in One Movement for piano was composed around 1934 with Price probably th4e soloist. It incorporates a spiritual like melody and the 19th-century juba dance. The juba dance has African roots and was adopted by enslaved Africans after the Stono Rebellion in 1739 when plantation owners began to fear that enslaved people were hiding secret codes in their drumming patterns. So instead of using drums, the enslaved people used their bodies to make music to accompany their singing and dancing. This American musical tradition became known as "patting Juba," and it was the main accompaniment to the American folk dance known as Juba dance.
There is no evidence of its being performed after the 1930s and there are no copies of the composer's manuscript of the orchestral score. As reported in the Philadelphia Inquirer (February 17, 2022) composer Trevor Weston was commissioned to reconstruct the concerto's orchestration in order to revive it from a two-piano manuscript and a few remaining instrumental parts in 2011. However, a manuscript of the original orchestration turned up at auction in 2019, and two Cornell University music professors, Tamara Acosta and Stephen Spinelli pitched the orchestra on the idea of programming the concerto in collaboration with their ONEcomposer project.
The orchestra accepted, but work didn't end there. Comparing the newly published original score, two-piano score, and Weston's version, Spinelli and Acosta found more than 100 discrepancies or errors — wrong notes and other questionable markings — and, working with Philadelphia Orchestra librarian Nicole Jordan resolved them.
Much of Price's compositional output was considered to be lost until an estimated 200 manuscripts and other papers by the composer were discovered in her former summer house in St. Anne, a suburb of Chicago, in 2009. The discovery offered the musical world a new opportunity to discover Price's music, perhaps now at a time when her output can be evaluated and appreciated in its own right
The seven-minute Concerto in One Movement for piano by Florence Price, composed around 1934 incorporates a spiritual like melody and the 19th-century juba dance. Originating from 19th-century American plantation dance, the dance was in response to performed by enslaved African people.
Beginning with an orchestral introduction and piano cadenza, it moves to a "spiritual like" melody ending with the African American plantation "juba dance". The dance originated in the 19th-century on American plantation dance performed by enslaved African peoples as a result of drumming being outlawed.
---
William Dawson, Negro Folk Symphony
In 1932, three years before the premiere of his Negro Folk Symphony, the African American composer William L. Dawson talked about this work. As told by Joseph Horowitz in The American Scholar (Autumn 2019) Dawson says, "I've not tried to imitate Beethoven or Brahms, Franck, or Ravel-but to be just myself, a Negro. To me, the finest compliment that could be paid to my symphony when it has its premiere is that it unmistakably is not the work of a white man. I want the audience to say: 'Only a Negro could have written that'"
Born to former enslaved African Americans in 1899 William Levi Dawson ran away from home at age 13 to study music at Tuskegee Institute headed by Booker T. Washington. He worked as a music librarian and a day laborer to pay for his tuition. He graduated from the high school division in 1921, having participated in the Tuskegee Singers for five years and playing almost every instrument in the band. He then enrolled at Washburn College in Topeka, Kansas studying composition and orchestration, and at the Horner Institute of Fine Arts graduating with a bachelor's degree in music theory and composition. The following year he enrolled at the American Conservatory of Music in Chicago to study composition graduating with a master's degree in 1927. Active as a trombonist and a band director in Chicago, he accepted the invitation to direct the School of Music at Tuskegee Institute in 1930. He retired from the position in 1955 but left a legacy of choral excellence with the 100 voices of Tuskegee Institute Choir performing at the grand opening of Radio City Music Hall in 1932 and at The White House for President Herbert Hoover.
In 1935, conductor Leopold Stokowski premiered Dawson's Negro Folk Symphony with the Philadelphia Orchestra at Carnegie Hall. In the program notes for the premier Dawson wrote, "The themes are taken from what is popularly known as Negro Spirituals. In this composition, the composer has employed three themes taken from typical melodies over which he has brooded since childhood, having learned them at his mother's knee."
While not using actual spiritual melodies, he crafted the three-movement work using them as thematic material. The movements are named The Bonds of Africa, Hope in the Night, and Le' Me Shine, Shine Like the Morning Star. 
Even after several more successful performances and reviews, Dawson never wrote another symphonic work and turned his attention to arranging Negro Spirituals, which he referred to as folk songs, for choirs and conducting the Tuskegee Institute Choir in Alabama. He did revise the Symphony after a trip to West Africa in 1952 with the desire to have a more rhythmic structure to signify what was lost when the Africans were taken into bondage. William Dawson died in 1990.
– Dr. Marvin V. Curtis
Michelle Cann, Piano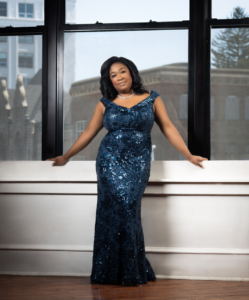 "A compelling, sparkling virtuoso" (Boston Music Intelligencer), pianist Michelle Cann made her orchestral debut at age fourteen and has since performed as a soloist with numerous orchestras including The Philadelphia Orchestra, The Cleveland Orchestra, the Cincinnati Symphony Orchestra, and the New Jersey Symphony Orchestra.  
A champion of the music of Florence Price, Ms. Cann performed the New York City premiere of the composer's Piano Concerto in One Movement with The Dream Unfinished Orchestra in July 2016 and the Philadelphia premiere with The Philadelphia Orchestra in February 2021, which the Philadelphia Inquirer called "exquisite."  
Highlights of her 2021–22 season include debut performances with the Atlanta, Detroit, and St. Louis symphony orchestras, as well as her Canadian concert debut with the National Arts Centre Orchestra in Ottawa. She also receives the 2022 Sphinx Medal of Excellence, the highest honor bestowed by the Sphinx Organization. Embracing a dual role as both performer and pedagogue, her season includes teaching residencies at the Gilmore International Keyboard Festival and the National Conference of the Music Teachers National Association.  
Ms. Cann regularly appears in solo and chamber recitals throughout the U.S., China, and South Korea. Notable venues include the National Centre for the Performing Arts (Beijing), the John F. Kennedy Center for the Performing Arts (Washington, D.C.), Walt Disney Concert Hall (Los Angeles), and the Barbican (London). She has also appeared as cohost and collaborative pianist with NPR's From The Top.  
An award winner at top international competitions, in 2019 she served as the Cincinnati Symphony Orchestra's MAC Music Innovator in recognition of her role as an African-American classical musician who embodies artistry, innovation, and a commitment to education and community engagement. 
Ms. Cann studied at the Cleveland Institute of Music and the Curtis Institute of Music, where she holds the inaugural Eleanor Sokoloff Chair in Piano Studies.
Aha! With Alastair: Quinn Mason, Florence Price, William Dawson
Musicians
Meet the people of the symphony here!
Series Sponsor
Thank you to our generous series sponsor; Jack M. Champaigne Masterworks Series. 
 
This concert is dedicated to the memory of Gary Pond
The South Bend Symphony Orchestra honors the memory of Gary Pond tonight by dedicating the Jack M. Champaigne Masterworks performance of "American Composers" to him.
Maestro Alastair Willis, the musicians, Board of Directors, and staff extend their heartfelt sympathy to Gary's wife, Martha Barcus, and family who are with us tonight. We celebrate Gary for his love of music and generous support of the Symphony over many years.