The June H. Edwards Mosaic Series opens with a world premiere and powerful collaboration! Divided into four movements, "Quarter Days" is a highly evocative work that showcases Anna Clyne's skill in creating intricate and complex music! The concerto is a co-commission for the Fischoff National Chamber Music Association and the South Bend Symphony and will feature the renowned Euclid Quartet as soloists.
Spotify Playlist
Program
Mozart
Adagio and Fugue in C minor, K.546
Turina
Bullfighter's Prayer, op.34
Ravel
String Quartet in F Major
IV. Viv et agité
Arvo Pärt
Cantus in memoriam
Benjamin Britten 
Haydn
Symphony No.1
I. Presto
II. Andante
III. Finale. Presto 
Anna Clyne
Quarter Days  
Program Notes
Coming soon.
Anna Clyne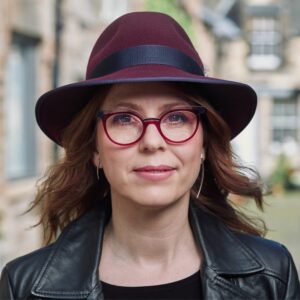 Clyne has been commissioned and presented by the world's most dynamic and revered arts institutions, including the Barbican, Carnegie Hall, Kennedy Center, Los Angeles Philharmonic, MoMA, Philharmonie de Paris, Royal Concertgebouw Orchestra, San Francisco Ballet, and the Sydney Opera House; and her music has opened such events as the Edinburgh International Festival, The Last Night of the Proms, and the New York Philharmonic's season.  
Clyne often collaborates on creative projects across the music industry, including Between the Rooms, a film with choreographer Kim Brandstrup and LA Opera, as well as The Nico Project at the Manchester International Festival, a stage work about pop icon Nico's life that featured Clyne's reimagining of The Marble Index for orchestra and voices. Clyne has also reimagined tracks from Thievery Corporation's The Cosmic Game for the electronica duo with orchestra, and her music has been programmed by such artists as Björk. Other recent collaborators include such notable musicians as Jess Gillam, Jeremy Denk, Martin Fröst, Pekka Kuusisto, and Yo-Yo Ma. 
Clyne's works are frequently choreographed for dance, with recent projects including the world premiere of choreographer Pam Tanowitz's dance set to Breathing Statues for the Royal Ballet in London and performances of DANCE by the San Francisco Ballet with choreography by Nicolas Blanc. Her fascination with visual art has inspired several projects including ATLAS, inspired by a portfolio of work by Gerhard Richter; Color Field, inspired by the artwork of Mark Rothko; and Abstractions, inspired by five contemporary paintings. In addition, Clyne seeks innovation through new technology, developing the Augmented Orchestra with sound designer Jody Elff; the technology expands the sound-world of the orchestra through computer-controlled processes, and will feature in Wild Geese for the 2023 Cabrillo Festival.  
In 2023-2024, Clyne serves as Composer-in-Residence with the Helsinki Philharmonic Orchestra as part of their Artistic Team, as well as Artist-in-Residence with Symphony Orchestra of Castilla y León. Past residencies include the Baltimore Symphony Orchestra, Chicago Symphony Orchestra, L'Orchestre national d'Île-de-France, Philharmonia Orchestra, Scottish Chamber Orchestra and the Trondheim Symphony Orchestra. Clyne's music is represented on several labels and her works Prince of Clouds and Night Ferry were nominated for 2015 GRAMMY Awards. Her cello concerto DANCE, recorded by soloist Inbal Segev, the London Philharmonic Orchestra, and Marin Alsop, has garnered 10 million plays on Spotify. 
Clyne's music is published exclusively by Boosey & Hawkes. 
Euclid Quartet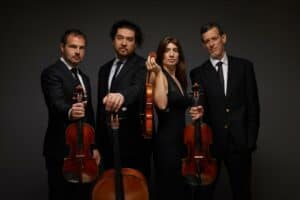 Now in its 26th season, the EUCLID QUARTET enjoys one of the most highly regarded reputations of any chamber ensemble of its generation, with its members' constituting a multinational mix representing three continents: violinist Jameson Cooper (Great Britain), violinist Aviva Hakanoglu (United States), violist Luis Enrique Vargas (Venezuela), cellist Justin Goldsmith (United States). Captivating audiences and critics ranging from Carnegie Hall to school classrooms to radio and television broadcasts, the quartet consistently performs to enthusiastic acclaim throughout the country.
Following a summer that include a debut on the prestigious series of Connecticut's Music Mountain, the Euclid Quartet's current season is highlighted by the world premiere of Anna Clyne's Quarter Days with the South Bend Symphony Orchestra, under the baton of Music Director Alastair Willis.
Formed in Ohio in 1998, the Euclid Quartet takes its name from famed Euclid Avenue in Cleveland, home to a wealth of renowned artistic and cultural institutions. Within three years, the ensemble was awarded the String Quartet Fellowship of the Aspen Music Festival, where it was invited to return for the subsequent summer's concert season. The quartet was also invited to study with the Emerson String Quartet at the Carnegie Hall Professional Training Workshop.
The Euclid Quartet's career includes significant global recognition as the first American string quartet to be awarded a top prize at the prestigious Osaka International Chamber Music Competition. Prior to its Japanese laurels, the quartet also won awards in numerous United States competitions, including the Hugo Kauder International Competition for String Quartets, The Carmel Chamber Music Competition and the Chamber Music Yellow Springs Competition. In 2009, the Euclid Quartet was awarded the esteemed "American Masterpieces" grant from the National Endowment for the Arts.
The Euclid is a frequent guest ensemble at American and Canadian music festivals, among them those of Aspen, Great Lakes, Kent/Blossom, Mostly Modern and Orford, while expanded programs have included collaborations with internationally renowned artists, including Adrian Daurov, James Dunham, Gregory Fulkerson, Warren Jones, Paul Katz, Joseph Silverstein and Alexander Toradze.
In 2007, the Euclid Quartet was appointed to the prestigious string quartet residency at Indiana University South Bend, where its members teach private lessons and coach chamber music. Passionately devoted to presenting the highest quality chamber music to young audiences, these seasoned teaching artists have performed for thousands of students and young adults, in part, through support from the National Endowment for the Arts and collaborations with Carnegie Hall's Weill Music Institute and the Fischoff National Chamber Music Association.
Active in the recording studio, the Euclid Quartet issued a pair of CDs, comprising the six string quartets of Béla Bartók on Artek Recordings. The American Record Guide raved about these discs, "rarely has a group found such meaning and vision." Their debut CD, on Centaur records, features the first four quartets of Hugo Kauder, a refugee from Nazi-occupied Austria who fled to the United States in the 1940s; he defied the atonal trend of his generation with his uniquely harmonic, contrapuntal style. The ensemble's most recent CD, "American Quartets: Antonín Dvorák & Wynton Marsalis," comprised of Dvorák's String Quartet #12 ("American") and Marsalis' At the Octoroon Balls – String Quartet #1, was released by Afinat Records.
Musicians
Meet the musicians here!
Series Sponsor
Thank you to our generous series sponsor; Jack M. Champaigne for the June H. Edwards Mosaic Series. Jordan Lexus of Mishawaka is a proud 2023-24 Season Artistic Sponsor. Craig and Carol Kapson for supporting the works of contemporary composers.
Program subject to change.
Sponsors