No events
There are no scheduled events. Please check back soon!
Don't miss one of South Bend's favorite holiday traditions when the Symphony and special guest artists bring you "Home for the Holidays"! A spectacular program of cherished Christmas carols and memorable seasonal tunes that brings joy to all. The perfect gift for the whole family. 
Subscriptions are NOW on sale 
Call 574-232-6343 ext. #1
Visit the office at 127 N. Michigan St., downtown South Bend (10 a.m. –5 p.m. Mon.-Fri.)
Single tickets are on sale now!
Program
Coming soon.
Geoffrey Larson, Guest Conductor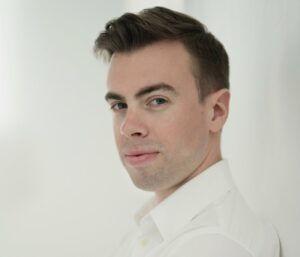 American conductor Geoffrey Larson is the founding Music Director of the Seattle Metropolitan Chamber Orchestra. At home on both the symphonic and operatic stage, he serves as Chorus Master and Assistant Conductor of Berkshire Opera Festival. Geoffrey's adventurous, multi-genre projects have harnessed the storytelling power, rich variety, and universal relevance of orchestral and operatic music to engage new audiences.
In December 2021 Geoffrey was awarded second prize in the Concurso Internacional de Dirección de Orquesta in Almería, Spain, after competing with 126 conductors from 26 countries. He was also named a semifinalist in the Arthur Nikisch International Conducting Competition, a finalist in the Lanyí Conducting Competition, and one of three finalists for the Respighi Prize in Conducting.
With a deep commitment to the music of our time, he has given the premieres of numerous works and has collaborated with composers such as Gabriel Prokofiev, Erberk Eryılmaz, Nancy Galbraith, Reza Vali, and Leonardo Balada. Passionate about equity of access and increased inclusion in classical music, Geoffrey's performances with the Seattle Metropolitan Chamber Orchestra each feature works by a composers of under-represented groups, such as women and people of color.
In the world of opera, he has collaborated with artists such as Tamara Wilson, Sebastian Catana, Caroline Worra, and Daniel Belcher. Working closely with baritone Sherrill Milnes, he served as Assistant Conductor for Mozart's Don Giovanni at the Estates Theatre in Prague, the site of the work's premiere. His opera credits include Puccini's La bohème, Suor Angelica and Gianni Schicchi, Purcell's Dido and Aeneas, Chabrier's L'étoile, Strauss' Ariadne auf Naxos, Donizetti's Don Pasquale, Tom Cipullo's Glory Denied, and Verdi's La Traviata, Rigoletto, and Falstaff.
Geoffrey is currently completing a doctoral thesis at the Indiana University Jacobs School of Music under the mentorship of Arthur Fagen and Thomas Wilkins. He has served as Assistant Conductor of IU Opera and Ballet Theatre, working with David Neely, Kevin Murphy, and Walter Huff. He previously studied with two-time Grammy Award winner Robert Page at Carnegie Mellon University, where he conducted performances and recording sessions of the Carnegie Mellon Philharmonic. His recording with the Carnegie Mellon Contemporary Music Ensemble appears on NAXOS Records.
He participated in master classes at London's Royal Academy of Music at the personal selection of George Hurst, and he studied at the Pierre Monteux School under the tutelage of Michael Jinbo. During a concentrated half year of study in Vienna, Austria, he studied harmony with Gerold Gruber at Universität für Musik und darstellende Kunst Wien and opera conducting with Wolfgang Harrer. He has benefited from additional studies with Carl St. Clair, Patrick Summers, Peter Erös, Ronald Zollman, and Michael Christie.
Emmett O'Hanlon, Baritone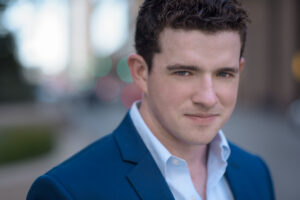 Irish-American baritone Emmett O'Hanlon's 2022 – 2023 season sees his house debut with Austin Opera as Figaro in Gregory Boyle's production of Il barbiere di Siviglia, conducted by Stephanie Rhodes Russell. Mr. O'Hanlon also returns to Deutsche Oper am Rhein for his role debut as Pierrot in a new production of Die Tote Stadt, and a reprise of his acclaimed run as the title role in Der Kaiser von Atlantis, as well as a return to Irish National Opera to sing Simon in The First Child. Concert appearances include a concert with the New York Philharmonic celebrating the works of Stephen Sondheim presented by Bravo! Vail Festival, a holiday concert with the South Bend Symphony, and a special concert at the Sun Valley Festival with tenor Emmet Cahill focused on music from the leading men of Hollywood's "golden age."
The 2021 – 2022 season saw Mr. O'Hanlon's house debut with Irish National Opera as Simon in Donnacha Dennehy and Edna Walsh's The First Child, conducted by Ryan McAdams and presented as part of the Dublin Theatre Festival. Mr. O'Hanlon also joined the ensemble at Deutsche Oper am Rhein which saw his role debut as Count in Le nozze di Figaro, as well as Figaro in Il Barbiere di Siviglia, Silvio in Pagliacci, and Kaiser Overall in Der Kaiser von Atlantis. He also appeared in Austin Opera's annual gala, Serenata, and with Hawaii Opera Theatre's Re-emerging: HOT in Concert gala in Honolulu. In concert, Mr. O'Hanlon appeared with mezzo soprano Isabel Leonard and tenor Emmet Cahill in Scenes from a New York Stage at the Blue Building in Manhattan.
Operatic highlights include Mr. O'Hanlon's role debuts as the title role in Don Giovanni, the role of Kaiser Overall in a new production of Viktor Ullmann's Der Kaiser von Atlantis, and Mercutio in Roméo et Juliette at Deutsche Oper am Rhein, his role debut as Malatesta in Don Pasquale with the Blackwater Valley Opera Festival, his role debut as Silvio in Pagliacci with Opera San Jose, and Maximillian in Bernstein's Candide with Des Moines Metro Opera. Mr. O'Hanlon also made his role debut as Gaston in Disney's Beauty and the Beast at the Paramount Theater. Highlights at Lyric Opera of Chicago include The Second Priest in Die Zauberflöte, Wagner in a new production of Faust, and Dancaīre in Carmen, where he also covered the roles of Valentin in Faust, Guglielmo in Così fan tutte, Marullo in Rigoletto, Papageno in Die Zauberflöte and Captain in Yevgeny Onegin. Additional operatic highlights include his debut at Des Moines Metro Opera in a new production of Britten's Billy Budd singing The Novice's Friend and covering the title role, as well as covering the title role in Yevgeny Onegin, singing Bartley in Vaughn Williams' Riders to the Sea, The Traveller in Britten's Curlew River at the Juilliard School, and the Soldier in a workshop of Scott Wheeler's The Sorrows of Frederick the Great in partnership with the Metropolitan Opera.
Concert work includes his debut with the New World Symphony for Unanswered Questions: A Leonard Bernstein Journey, conducted by Edwin Outwater. Recital appearances include being presented by Opera Birmingham at Brock Recital Hall at Samford University, and with Sun Valley Opera.
In addition to his operatic and concert career, Mr. O'Hanlon joined the group Celtic Thunder in 2014, as a featured artist. Highlights of his time with the group include appearances on the 2014 Celtic Cruise, the 2014 Christmas Symphony Tour, and the 2015 Very Best of Tour. He is also featured on both the DVD and CD of Legacy Vol I & II, as well as the re-release of their albums Heartland, The Show, Take Me Home, Heritage, and Voyage I & II.
Honors and awards include being named a finalist in the 2017 Operalia competition, a finalist in the south regional finals of the Metropolitan Opera National Council Auditions, 2nd place in the Verismo Opera competition, 3rd place in the Gerda Lissner Foundation competition, and an encouragement award from the Opera Index competition.
Mr. O'Hanlon holds a Master of Music degree from the Juilliard School of Music and a Bachelor of Music degree from University of Cincinnati College-Conservatory of Music. Additional training includes participation as a Bel Canto young artist at Caramoor Opera, studies at La Musica Lirica in Novafeltria, Italy, a summer with Oberlin in Italy, and the "Julliard in Paris" project, sponsored by the Edmond de Rothschild Foundation.
Mark Doerries, Artistic Director of the Concordia Octet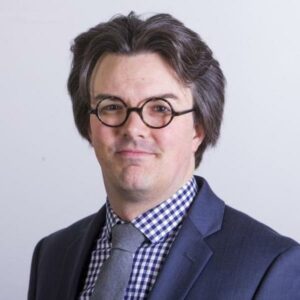 Dr. Mark Doerries is the Acting Director of Graduate Studies, Head of the Graduate Conducting Studio, and an Associate Professor in the Practice of Conducting for Sacred Music at Notre Dame. Doerries serves as the Artistic Director of the Notre Dame Children's Choir, Children's Organ Training Program, and the Sacred Music Academy, the community engagement arm of Sacred Music at Notre Dame.
Doerries' recent conducting engagements include appearances with the Girls' Choir Festival of the Diocese of Leeds, UK, the Diocese of Cleveland Children's Choir Festival, and performances with the Jessica Lang Dance Company, jazz trumpeter Arturo Sandoval, the Hymn Society of the United States and Canada, the Organ Historical Society, Indiana Music Educators' Association annual conference, National Pastoral Musicians' Association Conference, Circle the State with Song Indiana, the College of New Jersey Chamber Singers, and Ampleforth College Choir, and at venues including Walt Disney Concert Hall in Los Angeles, and Meyerson Symphony Center in Dallas, TX. Doerries has led students and ensembles on tours through major cathedrals in the United States as well as in Leeds, Liverpool, London, and York, UK.
With the Notre Dame Children's Choir, Doerries recorded four albums: O Emmanuel, released in the fall of 2016, debuted at #1 on Billboard's Chart of Traditional Classical Music; O Day of Peace, released in the spring of 2017, a collection of hymn arrangements; Arturo Sandoval's Christmas at Notre Dame (conductor and producer) is a collaboration with 10-time GRAMMY winner and jazz trumpeter Arturo Sandoval; and Magnificat: Evening Prayer with the Notre Dame Children's Choir, a collection of commissioned Vespers and Evensong liturgies.
Doerries has commissioned and premiered over 30 works by composers such as Caroline Shaw, Phillip Moore, Mark Miller, J.J. Wright, Stephen Mager, John Duggan, Ruth Boshkoff, Evelyne Currenton-Simpson, and Daniel Justin. He is the founding editor of the Notre Dame Children's Choir Choral Series, published by MorningStar Music Publishers/ ECS Publishing Group, and appears on the Universal Music Group, Arsis Records, and Dynamic Catholic recording labels.
Doerries is the co-recipient of a $1.6 million Lilly Endowment Grant for sacred music that supports the Sacred Music Academy, Notre Dame Children's Choir, children's Organ Training Program, and graduate studies in Sacred Music at Notre Dame. He was recognized by the Chamber of Commerce of the City of South Bend for his work at the University and in the community with the Notre Dame Children's Choir and inducted into the 2019 class of 40 Under 40 leaders in the region.
Past presentations include engagements with the American Choral Directors Association National Conference in Dallas, the Modern Language Association, Festival 500 Choral Symposium, and a TEDx Talk in 2015 titled, "What If Children Were More Than Cute?". Doerries' research on chemosynthetic deep-sea ecosystems is published in the journals Deep-Sea Research and Marine Ecology.
Doerries founded the Luminescence Project in 2004 for the composition and performance of multi-sensory music. The Luminescence Project performed in the Philadelphia Live Arts and Fringe Festival and the Bloomington Arts Festival with additional installations mounted in New York City, Vancouver, Kansas City, and Los Angeles. Original productions include staged performances of PASSIONATE CONVICTIONS, an electrified rock oratorio based on JS Bach's St. John Passion, and Dreaming in Darkness, a vocal music and light-art production.
Doerries previously served as the Director of Choral and Vocal Music at Olney Central College and as Music Director of All Souls Unitarian Universalist Church of Indianapolis before his appointment to the University of Notre Dame.
Southold Dance Theater
Southold Dance Theater is a nationally recognized, pre-professional dance company currently entering its 45th season. Under the direction of the professional staff, dancers strive to achieve mastery of technique and performance. Many dancers successfully audition for some of the nation's most prestigious dance institutions. Several have gone on to professional dance careers. As the resident dance company at the Morris Performing Arts Center, Southold enriches its audience with high standards of performance.
About Southold Artistic Director, Călin Rădulescu
Călin Rădulescu is originally from Bucharest, Romania. His passion for the arts started at age five, when he was admitted into the George Enescu School of Fine Arts, studying piano. When Călin turned ten years old, he enrolled in the ballet program, beginning his training with his mother, Elena Radulescu. Over the next nine years, he studied under several teachers to acquire excellent technique and knowledge of the performing art. During high school, he became part of "Ensemble Dor" with which he toured USA, France and Italy. At the same time, he became an apprentice with the Romanian National Ballet. Upon graduation, he joined the company and was raised to the rank of principal dancer two years later. He toured with the company all over the world, performing in Switzerland, Germany, South Korea, Italy, Greece, France, Turkey, Bulgaria and Luxembourg.
In 1998, Călin traveled to Germany, dancing for the Kaiserslautern Pfaltz-Theater. In 1999, he was invited to join Cincinnati Ballet, in 2001 he accepted a position with Tulsa Ballet, and in 2002 he called Grand Rapids his home. There, he began dancing and teaching for Grand Rapids Ballet, completing ten years of a professional career. During this time he performed soloist and principal roles in Swan Lake, Giselle, The Nutcracker, La Fille Mal Gardée, Don Quixoté, Les Sylphides, Le Corsaire, Carmen, Paquita, Romeo and Juliet, Coppélia, Belling the Slayer, Scheherazade, and Gift of the Magi.
In 2004, Călin had the pleasure of becoming an Affiliate Professor of Dance and Ballet Master at Grand Valley State University, where he commenced his career as a choreographer and has created a few successful ballets, such as: "Carmen", "Tango Ballet", "The Rough Dancer and the Cyclical Night", "Later On", and "Reflection". During his tenure at GVSU, he became the founder and Associate Artistic Director for the Great Lakes Youth Ballet Company, choreographing full-length classical ballets like "The Nutcracker" and "Coppélia". Călin also taught at numerous schools and summer intensive programs during this period.​
After fifteen years in the United States, he returned to his home country of Romania to work once more for the Romanian National Ballet, this time as the Assistant Artistic Director and Principal Ballet Master under Johan Kobborg. He also returned to dancing and performed the role of "Vronsky" in the ballet "Anna Karenina" by Ion Tugearu, "Rhapsody" by Sir F. Ashton, "Espada" from "Don Quixote", "Birbanto" in "Le Corsaire", "Gurn" in "La Sylphide", "Widow Simon" from "La Fille Mal Gardée" by Sir F. Ashton, and "The husband" in the ballet "Women" by Gheorghe Iancu. He also had the chance to work, firsthand with Alina Cojocaru, Ethan Stiefel, Xander Perish, and Osiel Gouneo, among others.
In 2016, Călin returned to the U.S.A. accepting the position of Interim Artistic Director with Southold Dance Theater. The same year, he was invited to be part of the "Fall For Dance Festival" at New York City Center in New York City, where he had the opportunity to make an appearance in the ballet "Marguerite and Armand" and also guest teach for the Sarasota Ballet.​
Under Călin's Artistic Leadership, Southold Dance Theater secured the honor of being named "2017 Outstanding School of the Year" award, at the internationally renowned competition "Youth America Grand Prix", in Chicago.
Today, many of his students are being accepted into internationally renowned Summer Intensive programs, such as School of American Ballet, Houston Ballet, Pennsylvania Ballet, Alvin Ailey American Dance Theater, and American Ballet Theater.
Alongside his wife Fiona, he is happy to call South Bend his new home. He is excited to constantly mold and create accomplished dancers and successful ballet productions for his community.
Musicians
Meet the musicians here!
Sponsors
Jordan Lexus of Mishawaka proudly supports the 90th Season guest artists.
Program subject to change.