Boasting an unforgettable theme song that topped the Billboard Top 100, this infectiously fun comedy classic follows an eccentric band of paranormal investigators—led by the hilarious Bill Murray—as they wage a spectacular battle with the supernatural in New York City. Join the South Bend Symphony Orchestra and guest conductor Erik Ochsner as they perform Elmer Bernstein's iconic score live while Ivan Reitman's 1984 masterpiece plays on the big screen.
Subscriptions are NOW on sale 
Call 574-232-6343 ext. #1
Visit the office at 127 N. Michigan St., downtown South Bend (10 a.m. –5 p.m. Mon.-Fri.)
Program
From Schirmer Theatrical, experience Ivan Reitman's two-time Oscar and two-time Golden Globe-nominated film, screened live as an orchestra performs Elmer Bernstein's Grammy-nominated score and Ray Parker Jr.'s Billboard Hot 100 chart-topping theme song, "Ghostbusters"!
Bring your proton pack and join the original paranormal investigation and elimination team as they capture their first ghost, Slimer, and encounter their first god of destruction, Gozer the Gozerian! Ghostbusters stars Bill Murray, Dan Aykroyd and Harold Ramis as eccentric parapsychologists who start a ghost-catching business in New York City after their careers in academia go awry. The film's co-stars include Sigourney Weaver as the Ghostbusters' first client turned Gatekeeper, Rick Moranis as an accountant turned Keymaster, and Ernie Hudson as the Ghostbusters' first recruit.
Peter M. Bernstein, son of the Academy Award-winning composer and an orchestrator for the film, joined Schirmer Theatrical's creative team in reconstructing Elmer Bernstein's brilliant score, now for the first time orchestrated and arranged for live performance. Ghostbusters in Concert includes the film, complete score and parts, along with a conductor video with punches, streamers and click track. Production travels with a Technical Director.
Ghostbusters in Concert is presented under license from Sony Pictures and Ghostcorps. Music is licensed through G. Schirmer, Inc. under license from EMI Golden Torch Music Corp.
GHOSTBUSTERS (1984)
FILM WITH LIVE ORCHESTRA
AN IVAN REITMAN FILM
MUSIC BY ELMER BERNSTEIN
A SCHIRMER THEATRICAL PRODUCTION<
COLUMBIA PICTURES Presents
An IVAN REITMAN Film
A BLACK RHINO/BERNIE BRILLSTEIN Production
Starring BILL MURRAY · DAN AYKROYD
and SIGOURNEY WEAVER
Also Starring HAROLD RAMIS · RICK MORANIS
Music by ELMER BERNSTEIN
Executive Producer BERNIE BRILLSTEIN
Written by DAN AYKROYD and HAROLD RAMIS
Produced and Directed by IVAN REITMAN
GHOSTBUSTERS © 1984 Columbia Pictures Industries, Inc. All rights reserved.
Erik Ochsner, Guest Conductor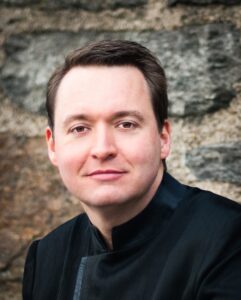 Erik Ochsner's versatility as a conductor has stretched across a broad range of repertoire: from conducting as few as five performers in contemporary and modern works, to leading 300 performers in Live to Projection film concerts. As Principal Touring Conductor of La La Land Live in Concert, he has conducted 50 performances of Justin Hurwitz's Academy Award and Grammy Award winning score. He is considered by audiences and critics alike to be one of the leading film-orchestra conductors due to his energy, attention to detail and precise synchronization. In 2018, Ochsner was invited to conduct the world premiere of Mary Poppins in Concert (1964) at the Sydney Opera House; made his debut with the San Francisco Symphony conducting Love Actually, and on 40 hours' notice, he flew to Taiwan to conduct Beauty and the Beast in Concert to fill in for an ailing colleague!
Ochsner has a long relationship with the Krakow Film Music Festival where he led sold-out performances of Pixar in Concert and Polish language versions of Frozen and Beauty and the Beast. He returns in 2019 to conduct a special performance of A Disney in Concert: The Magic of Music with the Krakow Film Festival Youth Orchestra.
He recently led performances of Star Wars in Concert: Episode 4: A New Hope with the Montreal FILMharmonique. He has also led performances of Star Wars in Concert: Episode 5: The Empire Strikes Back in Tainan, Taiwan on May the fourth ("International Star Wars Day!"); Pixar in Concert in Taipei, Taiwan; Batman (1989) in Portland, Oregon, featuring the Grammy Award winning score of Danny Elfman; and Ghostbusters in Alabama!
Other films he has conducted include Back to the Future, Bugs Bunny at the Symphony, E.T. the Extra-Terrestrial, Lord of the Rings: Fellowship of the Ring, Pirates of the Caribbean, Star Trek (2009), and Star Trek Into Darkness. Ochsner premiered The Music of Star Wars with the National Arts Centre Orchestra in Ottawa, a full-length evening production featuring the music of John Williams and video game composer Gordy Haab; was Music Director and conductor of the 2017 Opera America New Works Showcase and was a Guest Conductor at the Nanjing (China) Forest Music Festival. Ochsner is Founder and Music Director of SONOS Chamber Orchestra. Recordings include Brian Wilbur Grundstrom: An Orchestral Journey (CD), and Tan Dun's Tea: A Mirror of Soul (DVD).
Ochsner attended The Pierre Monteux School, is a graduate of Dartmouth College and is a proud Finnish-American dual citizen. He lives in New York City, loves travelling, wine and collecting requiem recordings.
Musicians
Meet the musicians here!
Series Sponsor"]
Thank you to our generous series sponsor; Indiana Trust Pops Series.
And to Jordan Lexus of Mishawaka for proudly supporting our 90th Season guest artists.