November 27, 2022 2:30 pm
The Symphony's annual family concert is the perfect family concert to introduce or grow the love of symphonic music for all ages. The fun and engaging program is a delightful afternoon for every member of the family. 
Program
Coming soon
Mark Doerries, Guest Conductor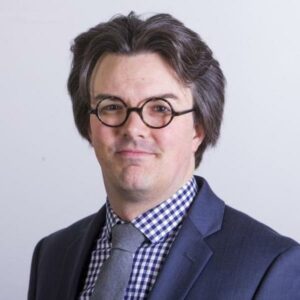 Dr. Mark Doerries is the Acting Director of Graduate Studies, Head of the Graduate Conducting Studio, and an Associate Professor in the Practice of Conducting for Sacred Music at Notre Dame. Doerries serves as the Artistic Director of the Notre Dame Children's Choir, Children's Organ Training Program, and the Sacred Music Academy, the community engagement arm of Sacred Music at Notre Dame.
Doerries' recent conducting engagements include appearances with the Girls' Choir Festival of the Diocese of Leeds, UK, the Diocese of Cleveland Children's Choir Festival, and performances with the Jessica Lang Dance Company, jazz trumpeter Arturo Sandoval, the Hymn Society of the United States and Canada, the Organ Historical Society, Indiana Music Educators' Association annual conference, National Pastoral Musicians' Association Conference, Circle the State with Song Indiana, the College of New Jersey Chamber Singers, and Ampleforth College Choir, and at venues including Walt Disney Concert Hall in Los Angeles, and Meyerson Symphony Center in Dallas, TX. Doerries has led students and ensembles on tours through major cathedrals in the United States as well as in Leeds, Liverpool, London, and York, UK.
With the Notre Dame Children's Choir, Doerries recorded four albums: O Emmanuel, released in the fall of 2016, debuted at #1 on Billboard's Chart of Traditional Classical Music; O Day of Peace, released in the spring of 2017, a collection of hymn arrangements; Arturo Sandoval's Christmas at Notre Dame (conductor and producer) is a collaboration with 10-time GRAMMY winner and jazz trumpeter Arturo Sandoval; and Magnificat: Evening Prayer with the Notre Dame Children's Choir, a collection of commissioned Vespers and Evensong liturgies.
Doerries has commissioned and premiered over 30 works by composers such as Caroline Shaw, Phillip Moore, Mark Miller, J.J. Wright, Stephen Mager, John Duggan, Ruth Boshkoff, Evelyne Currenton-Simpson, and Daniel Justin. He is the founding editor of the Notre Dame Children's Choir Choral Series, published by MorningStar Music Publishers/ ECS Publishing Group, and appears on the Universal Music Group, Arsis Records, and Dynamic Catholic recording labels.
Doerries is the co-recipient of a $1.6 million Lilly Endowment Grant for sacred music that supports the Sacred Music Academy, Notre Dame Children's Choir, children's Organ Training Program, and graduate studies in Sacred Music at Notre Dame. He was recognized by the Chamber of Commerce of the City of South Bend for his work at the University and in the community with the Notre Dame Children's Choir and inducted into the 2019 class of 40 Under 40 leaders in the region.
Past presentations include engagements with the American Choral Directors Association National Conference in Dallas, the Modern Language Association, Festival 500 Choral Symposium, and a TEDx Talk in 2015 titled, "What If Children Were More Than Cute?". Doerries' research on chemosynthetic deep-sea ecosystems is published in the journals Deep-Sea Research and Marine Ecology.
Doerries founded the Luminescence Project in 2004 for the composition and performance of multi-sensory music. The Luminescence Project performed in the Philadelphia Live Arts and Fringe Festival and the Bloomington Arts Festival with additional installations mounted in New York City, Vancouver, Kansas City, and Los Angeles. Original productions include staged performances of PASSIONATE CONVICTIONS, an electrified rock oratorio based on JS Bach's St. John Passion, and Dreaming in Darkness, a vocal music and light-art production.
Doerries previously served as the Director of Choral and Vocal Music at Olney Central College and as Music Director of All Souls Unitarian Universalist Church of Indianapolis before his appointment to the University of Notre Dame.
Dallin Baldwin, Guest Conductor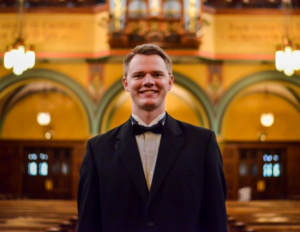 Dallin Baldwin has loved making music since he was a young boy. He began playing the piano at the age of seven. In high school, he was involved in choir, where he would sing with and accompany them. Also in high school, he began taking organ lessons and fell in love with the instrument.
Dallin is currently a doctorate student at the University of Notre Dame, where he studies choral conducting in the Sacred Music Program. Before arriving at Notre Dame, Dallin received a Bachelor of Music degree in organ performance and Master of Music degree in choral conducting from Brigham Young University. He has performed in many locations including BYU Devotionals, freshman, sophomore, and junior recitals at BYU, the United States Air Force Academy Cadet Chapel (Colorado Springs, CO), St. John's Cathedral (Boise, ID) and the Cathedral of the Madeleine (Salt Lake City, UT). Dallin has also had the opportunity to perform with the acclaimed Brigham Young University Singers on tours (Northern California and Nevada) and at the national convention of the American Choral Directors Association (Kansas City, MO, 2019).
As a church musician, Dallin has served in various roles. He has previously worked as organist and choir director at St. Mary's Episcopal Church (2016-2020), and organ scholar at the Cathedral of the Madeleine (2017-2018). He is currently the choir director at Grace United Methodist Church in South Bend, IN. Along with working as a church musician, Dallin has taught collegiate courses in music theory and aural skills, conducting, organ playing, and assisted in conducting various choirs.
Dallin and his wife, Carlee, enjoy going to the theater, having game nights, and cooking.
Notre Dame Children's Choir
The Notre Dame Children's Choir (NDCC) is an ecumenical ensemble for Christian sacred music open to singers from birth to age 17. In addition to learning healthy vocal technique, choristers practice the fundamentals of reading and expressing music. Each season, the NDCC hosts a festival of sacred children's choirs, collaborates with important conductors and composers, participates in annual musical retreats, regional tours, and performs at a variety of churches. NDCC is free to all choristers. Our mission is to educate the whole singer through music, spirituality, and community.
Initiated in the fall of 2013 with a twenty-voice choir, the NDCC has grown into a five choir program of over 120 singers. The program regularly commissions new works of sacred music and invites guest directors to lead our singers. It is our belief that young singers should be at the center of every church or community choral program.
In 2014 the choirs participated in a conference titled, The Chorister and the Church of the Future. The choir performed J.S. Bach's cantata 140, Wachet auf, ruft uns die Stimme as part of the headline concert. In the spring, the choirs performed an outdoor production of Benjamin Britten's opera, Noye's Fludde. In the spring of 2015 the Chamber Choir embarked on the NDCC's first regional tour to the east coast including performances in Indianapolis, Cincinnati, Philadelphia, Pittsburgh, and New York City. Most recently the choir participated in a TEDx Conference at the University of Notre Dame titled, "What if children were more than cute?".
Musicians
Meet the musicians here!
Series Sponsor"]Thank you to our generous sponsor; Shein Trust Community Series.
Program subject to change.