Join the South Bend Symphony Orchestra on Sunday, October 30 at 3 p.m., for one of the many activities during this weekend's celebration of Hispanic culture. Featuring Mexican composers, South Bend's Folklorico Dancers, and Vanessa Alonzo and Trio Chapultepec.
This concert is presented by Shein Trust Community Series
Program
The South Bend Symphony Orchestra performs
José Elizondro's
Estampas Mexicanas
Arturo Marquez's
Danzon No. 210
Tierra Viva Mexican Folkloric Dance Group
Vanessa Alonzo and Trio Chapultepec
Erik Ochsner, Guest Conductor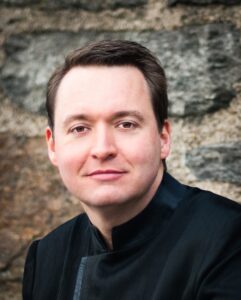 Erik Ochsner's versatility as a conductor has stretched across a broad range of repertoire: from conducting as few as five performers in contemporary and modern works, to leading 300 performers in Live to Projection film concerts. As Principal Touring Conductor of La La Land Live in Concert, he has conducted 50 performances of Justin Hurwitz's Academy Award and Grammy Award winning score. He is considered by audiences and critics alike to be one of the leading film-orchestra conductors due to his energy, attention to detail and precise synchronization. In 2018, Ochsner was invited to conduct the world premiere of Mary Poppins in Concert (1964) at the Sydney Opera House; made his debut with the San Francisco Symphony conducting Love Actually, and on 40 hours' notice, he flew to Taiwan to conduct Beauty and the Beast in Concert to fill in for an ailing colleague!
Ochsner has a long relationship with the Krakow Film Music Festival where he led sold-out performances of Pixar in Concert and Polish language versions of Frozen and Beauty and the Beast. He returns in 2019 to conduct a special performance of A Disney in Concert: The Magic of Music with the Krakow Film Festival Youth Orchestra.
He recently led performances of Star Wars in Concert: Episode 4: A New Hope with the Montreal FILMharmonique. He has also led performances of Star Wars in Concert: Episode 5: The Empire Strikes Back in Tainan, Taiwan on May the fourth ("International Star Wars Day!"); Pixar in Concert in Taipei, Taiwan; Batman (1989) in Portland, Oregon, featuring the Grammy Award winning score of Danny Elfman; and Ghostbusters in Alabama!
Other films he has conducted include Back to the Future, Bugs Bunny at the Symphony, E.T. the Extra-Terrestrial, Lord of the Rings: Fellowship of the Ring, Pirates of the Caribbean, Star Trek (2009), and Star Trek Into Darkness. Ochsner premiered The Music of Star Wars with the National Arts Centre Orchestra in Ottawa, a full-length evening production featuring the music of John Williams and video game composer Gordy Haab; was Music Director and conductor of the 2017 Opera America New Works Showcase and was a Guest Conductor at the Nanjing (China) Forest Music Festival. Ochsner is Founder and Music Director of SONOS Chamber Orchestra. Recordings include Brian Wilbur Grundstrom: An Orchestral Journey (CD), and Tan Dun's Tea: A Mirror of Soul (DVD).
Ochsner attended The Pierre Monteux School, is a graduate of Dartmouth College and is a proud Finnish-American dual citizen. He lives in New York City, loves travelling, wine and collecting requiem recordings.
Vanessa Alonzo, Vocalist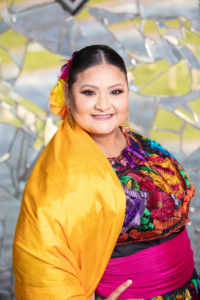 Houston native, Vanessa Alonzo created the role for three mariachi operas. She has performed with first class mariachi musicians including Mariachi Vargas de Tecalitlan, Mariachi Los Camperos, and Mariachi Nuevo Tecalitlan. She studied mariachi and voice under the direction of the late Alfonso Guerra at the Houston community-based program Multicultural Education and Counseling through the Arts (MECA). In 2019, Alonzo created the role of Lupita for the world premiere of Houston Grand Opera's El Milagro del Recuerdo/The Miracle of Remembering, which is a prequel to Cruzar la Cara de la Luna/To Cross the Face of the Moon, the first mariachi opera in the world. In 2021, she reprised the role for Arizona Opera's production of El Milagro.
She reprised the role of Lupita in Cruzar La Cara De La Luna across the United States, with various opera houses such as El Paso Opera (2019); Houston Grand Opera, New York City Opera, and Teatro Nacional Sucre in Quito, Ecuador (2018); Fort Worth Opera (2017); Arizona Opera (2014); San Diego Opera (2013), Lyric Opera of Chicago, and Théâtre du Châtelet in Paris, France in 2011.
In 2015, Alonzo created the role of Juana in Lyric Opera of Chicago's El Pasado Nunca Se Termina/The Past Is Never Finished, which she also performed at Houston Grand Opera and San Diego Opera. She reprised the role at Fort Worth Opera in their 2019 season. In early 2020, she represented Fort Worth Opera Fort Worth Rodeo. Alonzo was an opening act for Graciela Beltran in Arlington, Texas.
In the Fall of 2021, she was invited to sing as part of Minnesota Opera's, Ópera Afuera Concert at Allianz Field. She performed in Austin Opera's Concerts at the Consulate that same year with Trío Chapultepec. Alonzo was invited to perform with Grammy Award winning Mariachi Los Camperos for the Houston Grand Opera Ball in 2019. She was awarded Grand Champion Vocalist Award in the Mariachi Vargas Extravaganza National Vocal competition. Her travel and performing credits include tours to Ireland, Mexico, Norway, and Vietnam. Television credits include El Show de Cristina on Univision as a participant in Festival de Rancheras and an appearance as a finalist on Estrella TV's Tengo Talento, Mucho Talento in season 4.
Trio Chapultepec, Guest Musicians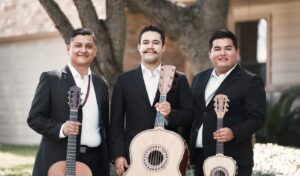 Trio Chapultepec is a traditional Mexican Trio ensemble that focuses on their unique style of American and Mexican Folk genres including Jazz, Mariachi, and Trio Romance. The members formed the Trio in late 2019 after several years of knowing and working with each in Central Texas. The Trio is based out of San Antonio, Texas, and has worked professionally since its debut, including several concerts and Opera shows in the Texas and Arizona Opera communities.
After the primary Covid lockdown in the United States, Trio Chapultepec's live performances and concerts were at an all-time low, however, this allowed the Trio to focus on their first CD, accompanying Houston-based Mezzo-Soprano Cecilia Duarte on their Collaborated Album: Reencuentros Set to be released in 2022.
Sponsors
This concert is proudly presented and sponsored by:
Shein Trust
South Bend Symphony Orchestra
South Bend Civic Theater
La Casa de Amistad
Downtown South Bend
South Bend Alumni Association
St. Joe County Public Library
South Bend Community School Corporation
Transpo
Aloft Hotels
City of South Bend Venues Parks & Arts
The Morris Performing Arts Center
Program subject to change.